I love Easter. My children have outgrown the chocolate bunnies and baskets but there is still a gift waiting Easter morning.
In 2006; however, my mom took us to my younger sister's house and my daughter was introduced to Peeps. This little duck was dropped by a hawk in my sister's yard and when she found it she was not really sure what to do with it. Being the animal lover that she is she nursed it to health and researched what they ate, what their needs were and made this duck comfortable... she had every intention of setting the recuperated bird free. Little did she know that the duck now looked at her as Mommy and would never leave. This duck has grown into the most beautiful white duck that I have ever seen.
In any case this was the first time that we got to see the duck and my daughter fell in love at first sight. So out came the camera and I started snapping pictures.
It was an interesting Easter.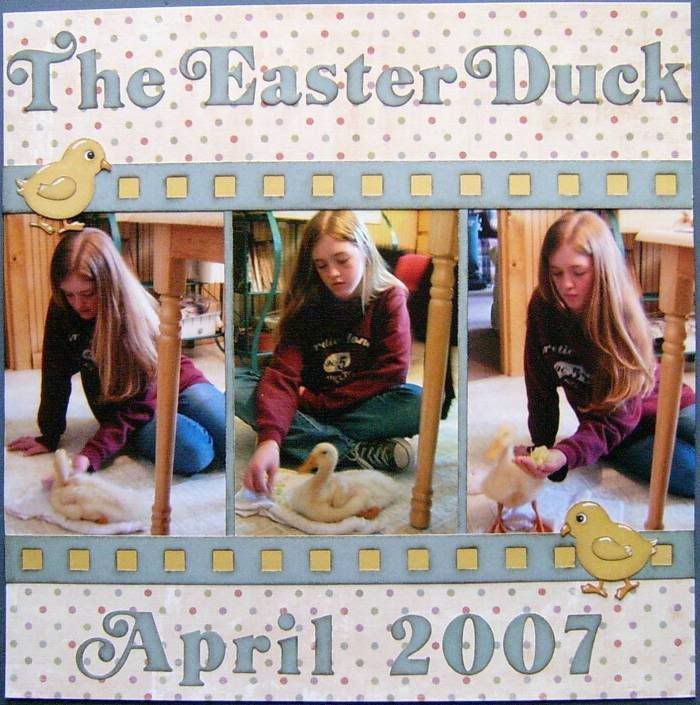 Sometimes when there really isn't an Easter Basket and a Chocolate Bunny to take pictures with sometime an unusual set of circumstances will allow you to still scrapbook the day with a memory and sometimes the best moments are unexpected and not really what you thought they would be. Those are the special moments.
Happy Scrappin' !!!
Brenda