This time I am making something for me.... perhaps not so much for me but for my Christmas tree! I stumbled across a couple of pictures of old crafts and decorating made new by not only a scrapbooking company but also a crafting diva.
As a child I would make paper chains of brightly colored papers and because I had made them my mom would allow me to put them on the tree. A little old fashioned type of decoration that had been around since my own mom was a little girl. Now with new Martha Stewart scrapbooking/craft punches you can relive those childhood moments and make some elegant paper chains for the tree, mantal, or for around a door or staircase.
Here is the picture of the ones I have started: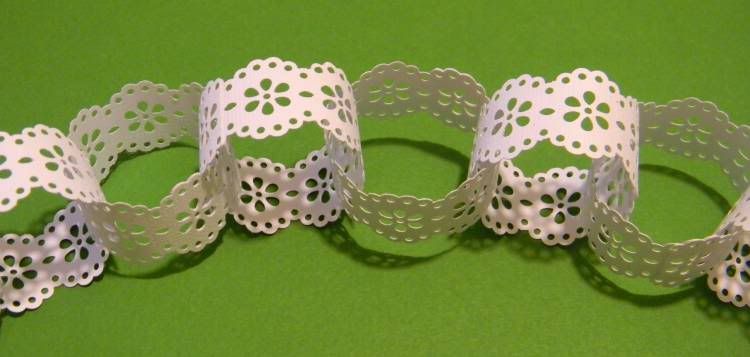 These are so easy to make. I took a 12 x 12 sheet of paper and cut it in half. So that it is 12 x 6. I started punching the strips with the punch along the 6" side of the 12 x 6 sheet. I just had to line up the previous cut to make a continuous design. It was that easy. I ended up with a 6" strip that I formed into a ring and added more rings from there.
This lace paper chains will be used on my tree, added to garlands that go up the banister of my staircase and the garland around my front door.
Then comes the tree topper for the season. Once again the crafting diva, Martha Steward comes to the rescue with a new template to make these spirals, that when 6 are combined a beautiful star is the end result.
Here is a picture of my finished star:
I used the 6 inch template, but I will tell you, I made these as a child and you can still download the instructions on-line if you do not want to spend the $12.99 on the template. (I used a 40% off coupon at Michael's to purchase mine.)
Sometimes a touch of old-fashioned is an elegant touch. I hope that you make at least one hand-made item for holiday decorating.
Happy Scrappin' ! ! !
Brenda