This one goes out to my God-Children, Karley and Sean. Their mom, one of my dearest friends loves getting hand-made cards. She always tells me that she looks forward to the hand-made things I send her and the children. With that in mind I am always looking for a special card or gift to make them. This year was no different.
Another friend of mine, Glenda, had this coffee filter book and I looked at it and fell in love with this little book. It was so special with all of its pockets and hiding places. A book made out of coffee filters? Yes, but when I heard coffee filters I thought of the ones that my coffee machine took with the rippled edges, and these were the cone type which made so much more sense to me. Evidently these books have been around for while and were all the rage at Stampin' Up parties and camps. Since I don't stamp very often I was out of the loop on this one.
Glenda and I planned a scrapping date so that we could each make one of these odd little books. At the time I did not know what I would do with the book. I honestly didn't even know how I would embellish my pages since I do know have very many stamps. I didn't even know the theme that I wanted to do because let's face it the possibilities with a mini photo album like this are endless!
Glenda and I got together and had an afternoon of chatting and scrapping. I pulled out Christmas papers, coordinating colored cardstock, dies, ribbons, eyelets and other miscellaneous supplies. And together we figured out what we needed to do to make this nifty little scrapbook. She made one of her own but used stamps that she had brought with her. It was not until after she left that afternoon it hit me that this would be a perfect "hide & seek" gift for my God-Children. I never know what to get them and money is always the universal gift but I get tired of just handing them money. I continued working on the project for the next couple of afternoons.
I wrote a little poem for them, instructing them before they ever open the box that they had to get mom to take a list of pictures as they go, and that they must take turns looking for the next hidden bil or gift cardl. The poem ends with a verse about each having the same amount and that the pictures should be cropped or shrank and placed in the places on the pages and then given to their mom as their gift to her.
Anyway... enough babbling about the story of where the book is going. Below you find the pictures of the book.
This is the front of the book, and then a picture of the tag that is nestled in the pocket that was formed by the coffee filter: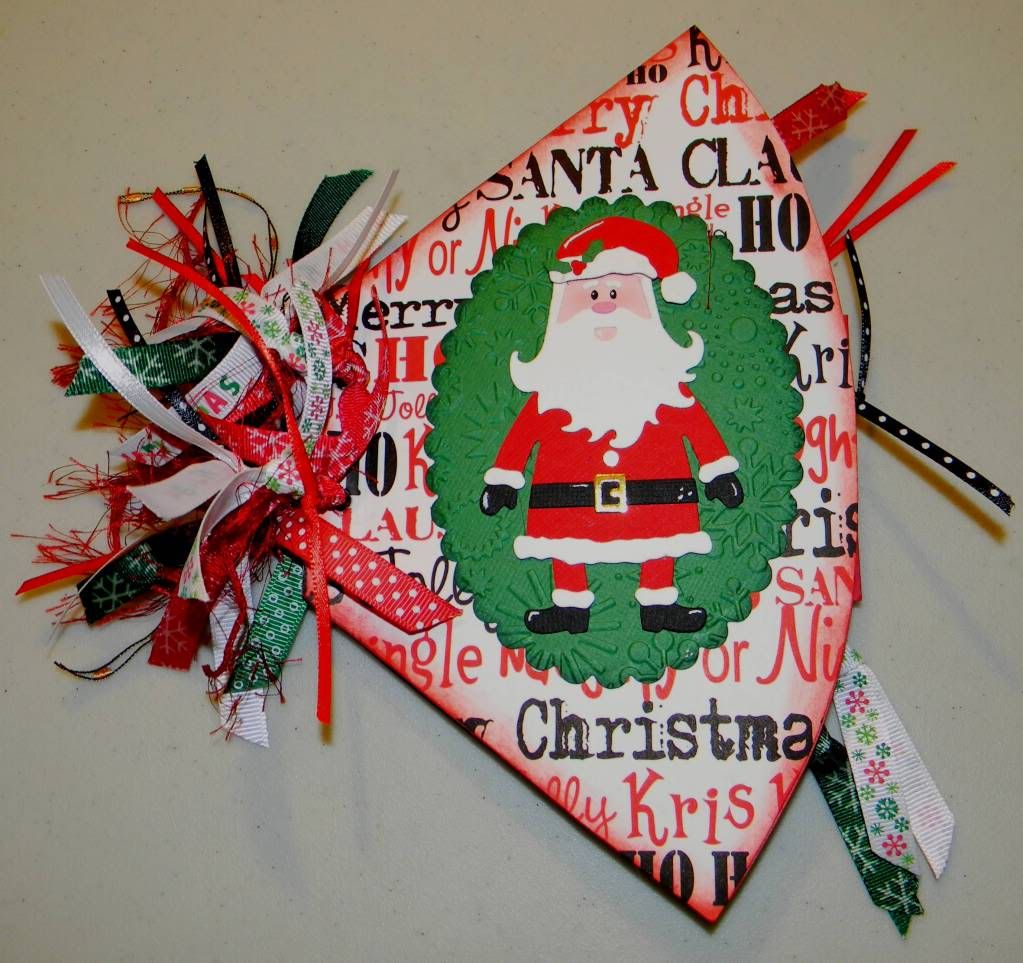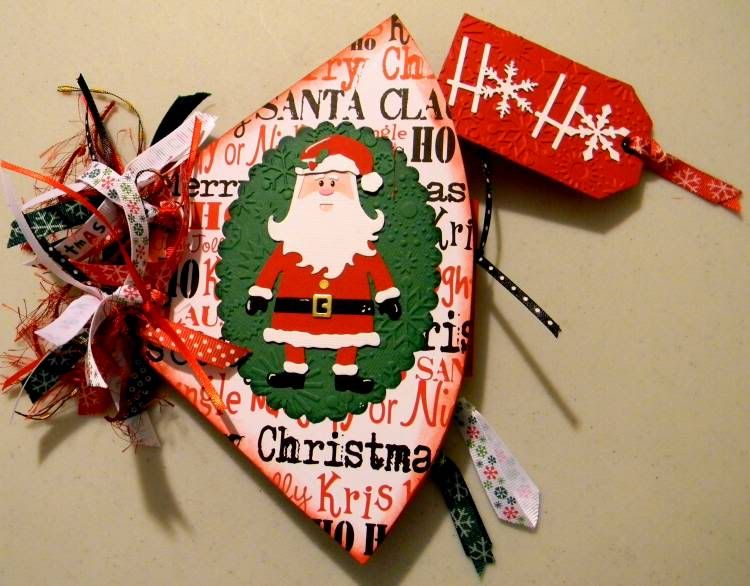 Then you have pages 1 & 2, and then a picture of the tag (that is also a pocket) hidden in the coffee filter :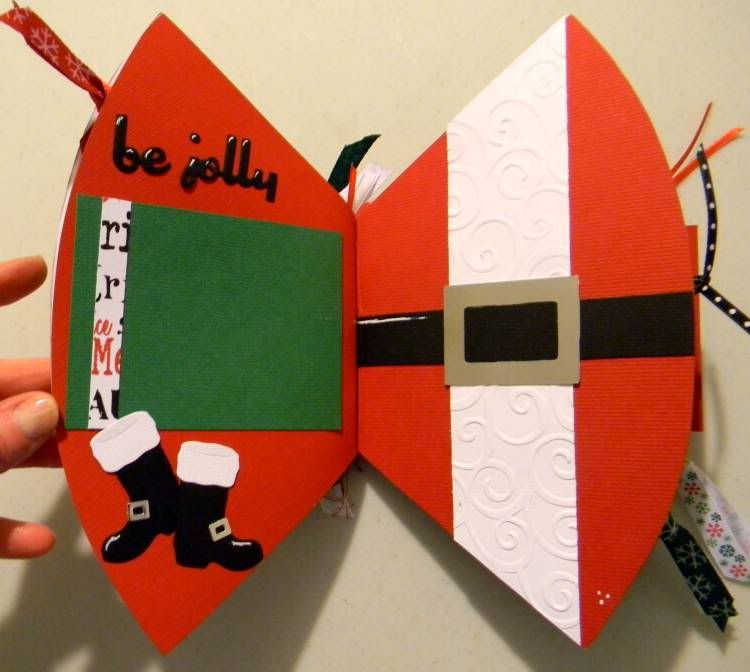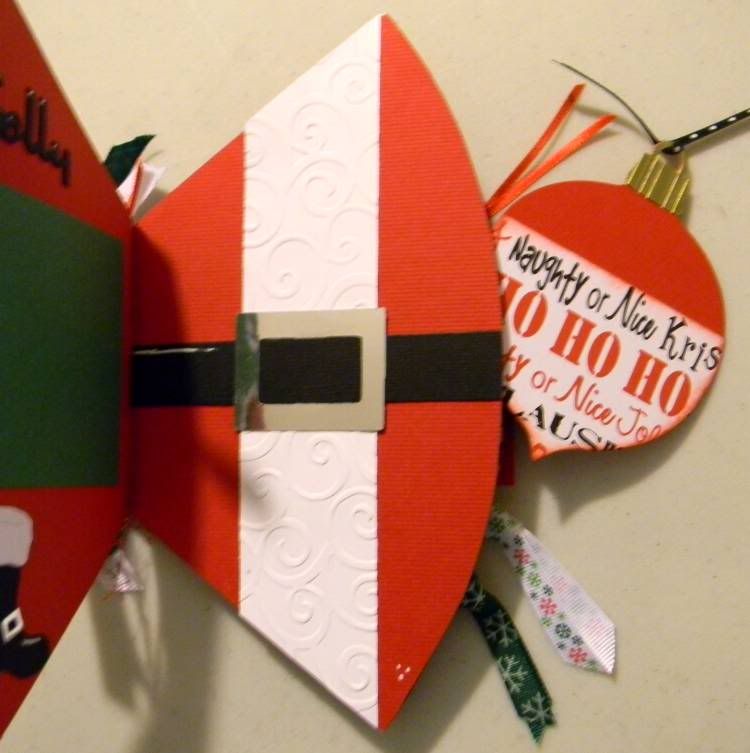 Pages 3 & 4, along with the items that are hidden there. (The present on the page is only glue on the two sides and bottom so that something can be slid in the gift):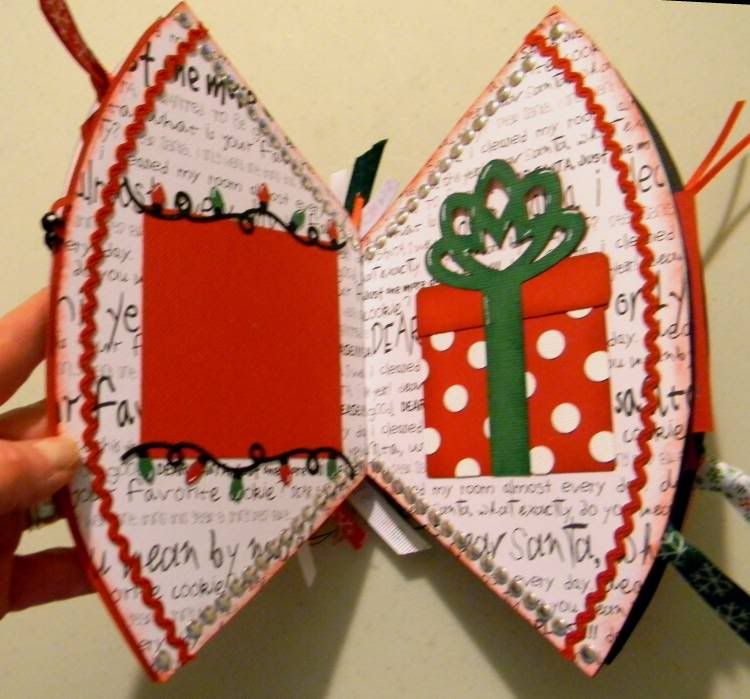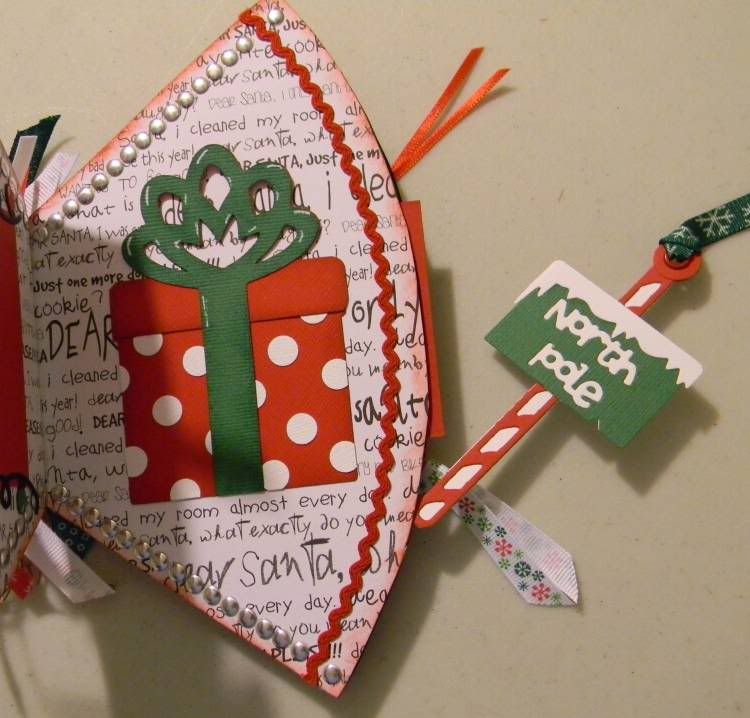 Pages 5 & 6, and with this side pocket is a tag. Even though I tried to stay with the black, red, white that is in the 3 printed cardstocks that I used, I also wanted to use the traditional Christmas green for accents. I ended up using a little brown, silver, and gold which I had not planned on but like all the same.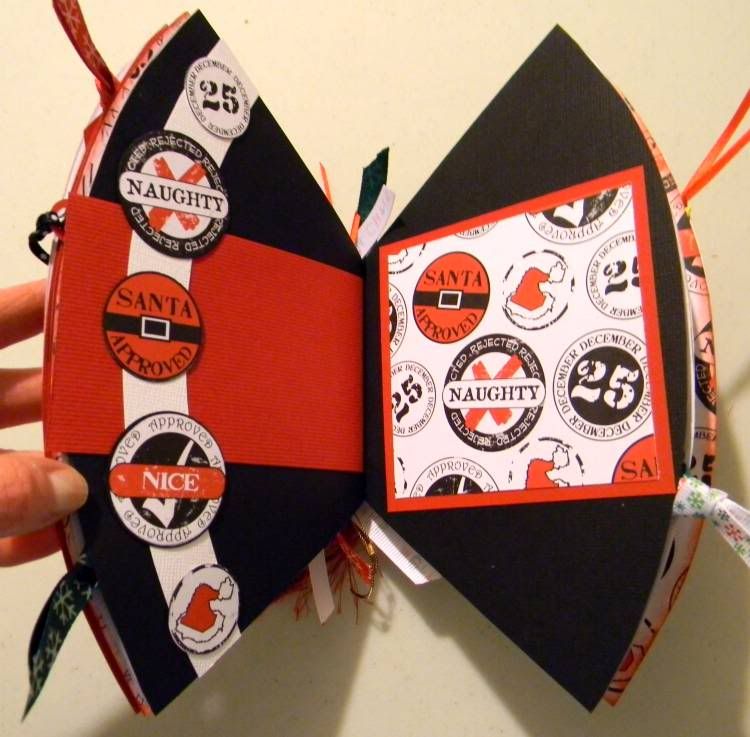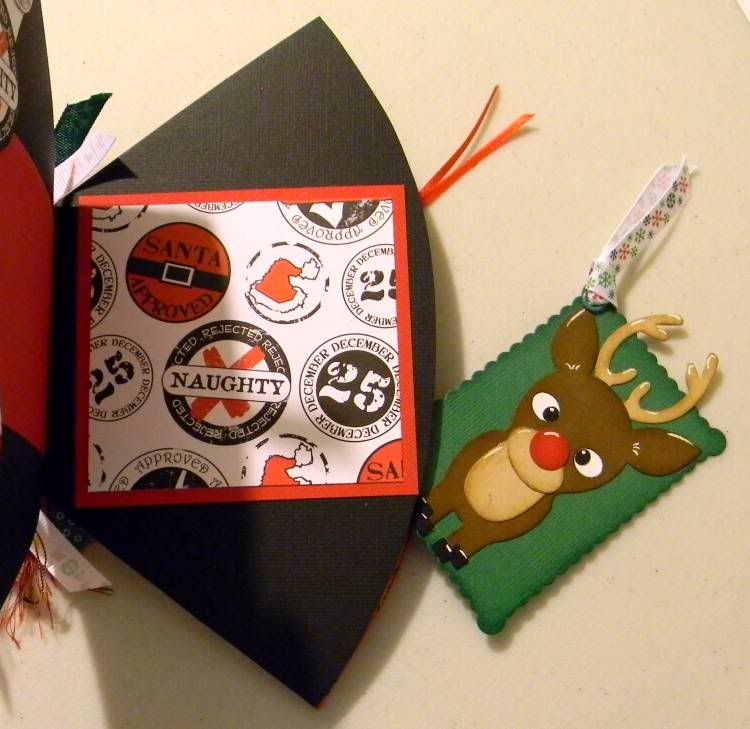 Pages 7 & 8. In addition to the coffee filter pockets there are two more pockets with removable tags. The top of the stocking is open and has a Christmas light tucked in it and the square on the right houses the Gingerbread man. When I took the pictures of the book I did not notice that I missed putting a ribbon on the light bulb tag. That has since been corrected: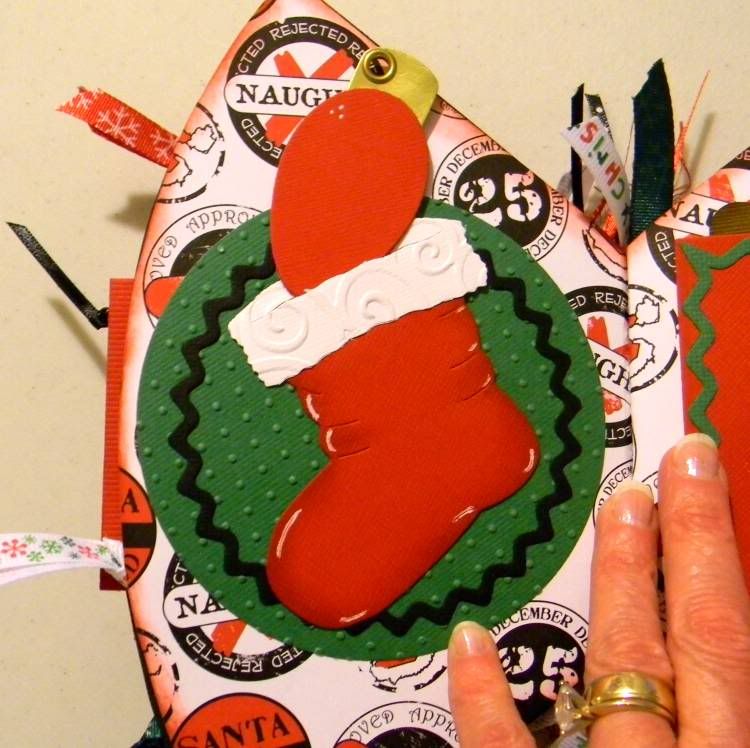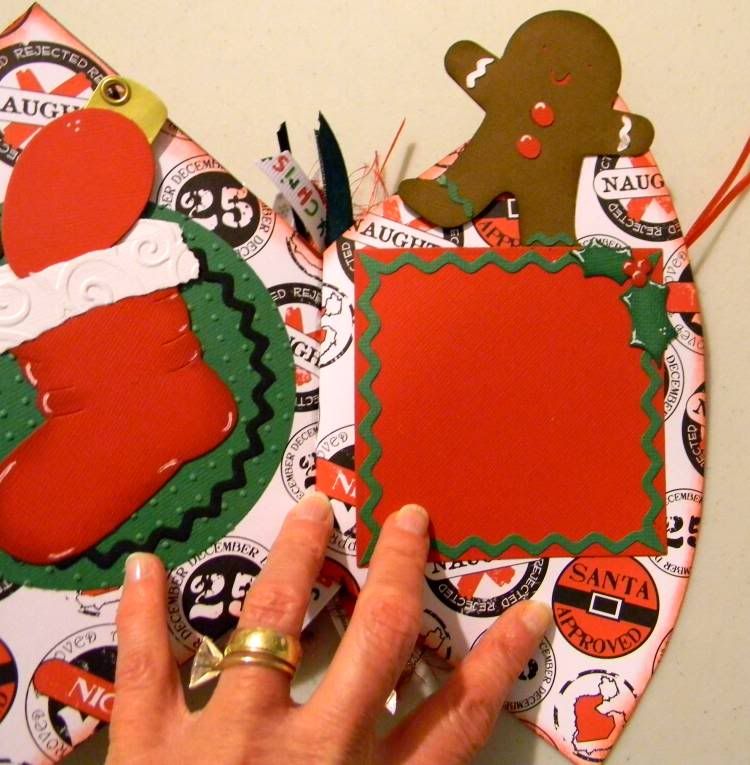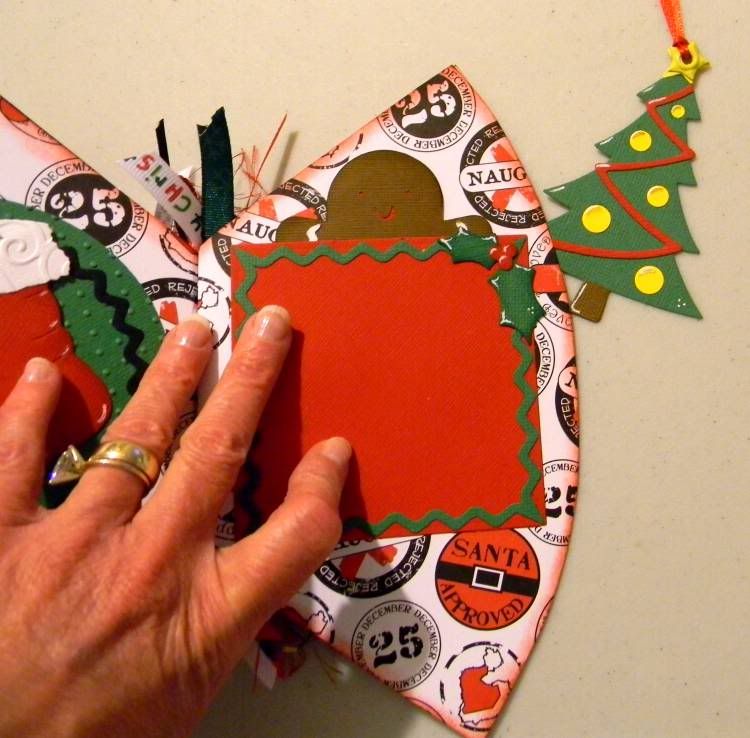 And finally the back of the book: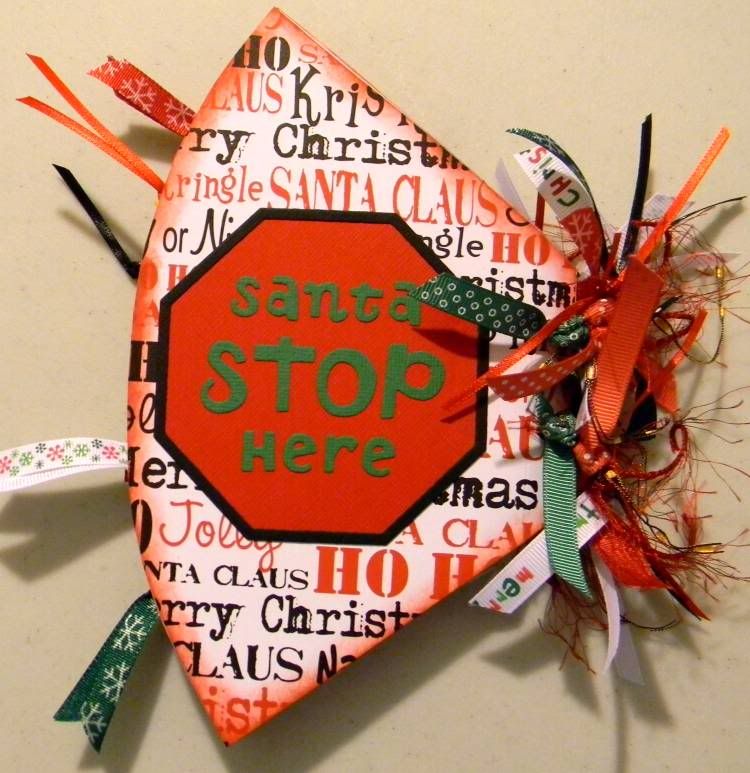 This was a lot of work but worth every minute that I spent doing it after I had a focus of where it was going to go and be used for.
I think this will be fun for my God-Children to thumb through and explore and find the hidden money and gift cards and if they follow the enclosed directions their mom will also have a keepsake of the Christmas Gift as well.
I hope all of you are able to find some inspiration in this project.
Happy Scrappin' ! ! !
Brenda