I have already showed you the "trivets" and ornaments that I have made for gift giving. Now it is time for just a couple of other gifts that I have made and I am planing on giving.
I am showing you just one today. This gift has already been given back in September.
It was the first thing that I gave away. It seemed like it took me forever to make but that is because I would get tired of working on it and would go between making ornaments and working on the basket. I think that was because of the amount of sanding that was involved in this small project. I did not like the squareness to the cut and I took time to round each band of the basket so it looked more like a natural basket.
I was amazed at how these baskets are made. It took me a little while to put my mind around the process. A bottom solid piece, 5 rings, a finishing ring, and a handle. The handle turned out to be the trickiest part of the entire process!
I liked the end result! I filled the little basket with candy, put some netting around it and gave it as a wedding gift.
Here is the picture of the finished basket. It is small, only about 7 inches from the table to the top of the handle. It was very light in weight. I cut it from 3/8" pine and stained it in natural stain.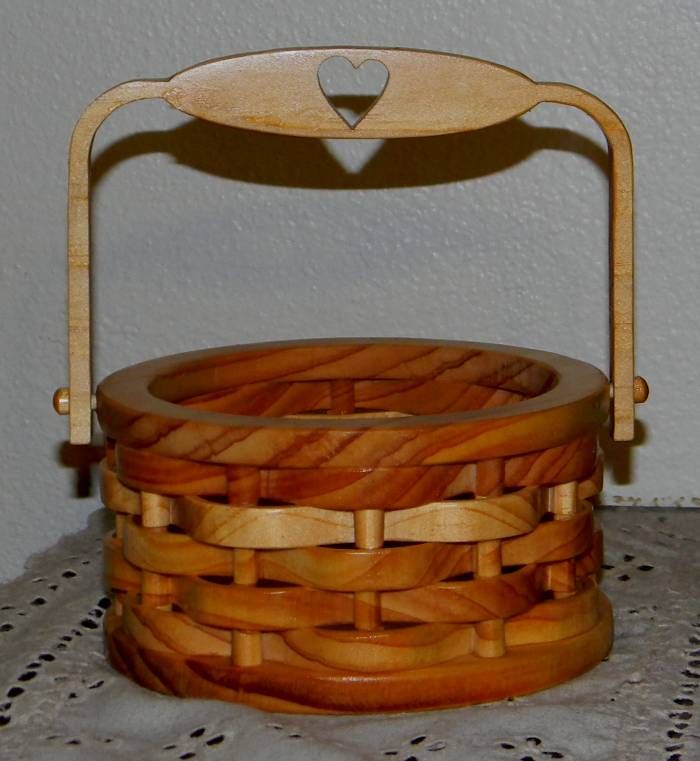 I would also like to share a couple of pictures of the couple that I made this for:
I hope that the happy couple have many happy years!
Brenda ! ! !