As I progress through learning this craft I want to try new things and different techniques. I don't want my new hobby to get stale and I don't want to become board. (No pun intended but you have to admit that was funny.)
Not everything is flat or lifeless. Many projects have movement and/or dimension.
Today I am sharing the 3D ornaments and one that has some movement to it.
This first one is a free pattern that I found on a magazine site that I have to tell you I love! There is a message forum there that you can post issues, pictures, or visit with other wood artist. This site has been a wealth of information for me. With it's many tips, tricks, and many how-to and free patterns this has turned out to be one of my favorite sites. The site is for
Scroll Saw Woodworking & Crafts
. Here is a direct link to this first
3D "snowflake" ornament
. I used red oak, finished in natural, and the finished size is approximately 4 inches.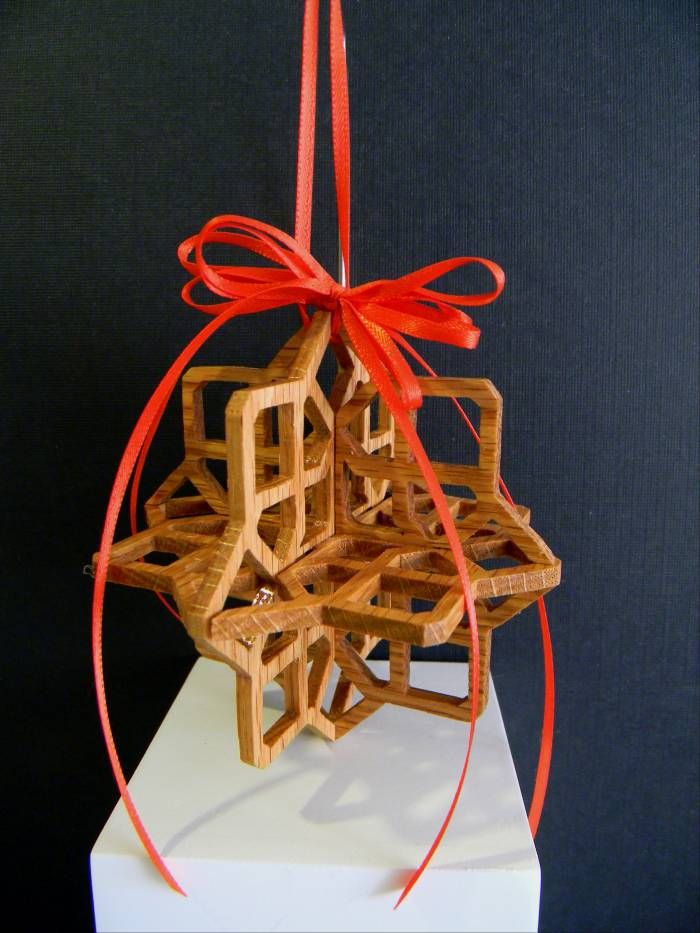 Did I mention I have made a few friends there as well. Everyone at that site are very kind and when I posted my very first project no one laughed at me, they encouraged me! (And that first project wasn't awful but it also wasn't a prize either!)
The second ornament today I found in a magazine. In fact is is the magazine from the website above. I love that the magazine is full of success stories, articles, and a wealth of ads for useful woodworking products, BUT, you knew there would be a but, I would be lying if I didn't tell you I love that magazine for the pattern! My ornament is cut from red oak, finished in golden pecan, and is about 5 inches tall.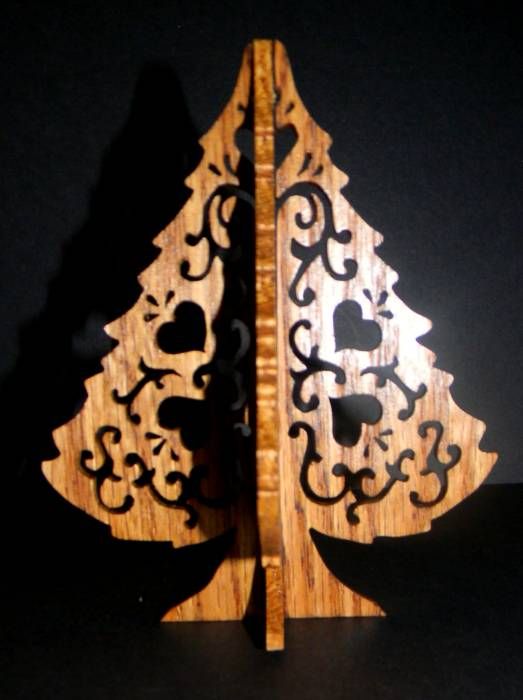 One last ornament today is not exactly 3d but rather one that has a little movement to it. The pattern for this called it a "mobile," but I re-sized it so that it could me an ornament. This ornament has a star suspended within another star. It posed a challenge for me but I love a challenge. I found this at an on-line site called
Scroll Saw Village
. Here is the direct link to the
pattern
. My ornament is 6 inches tall, cut from red oak, finished in natural stain.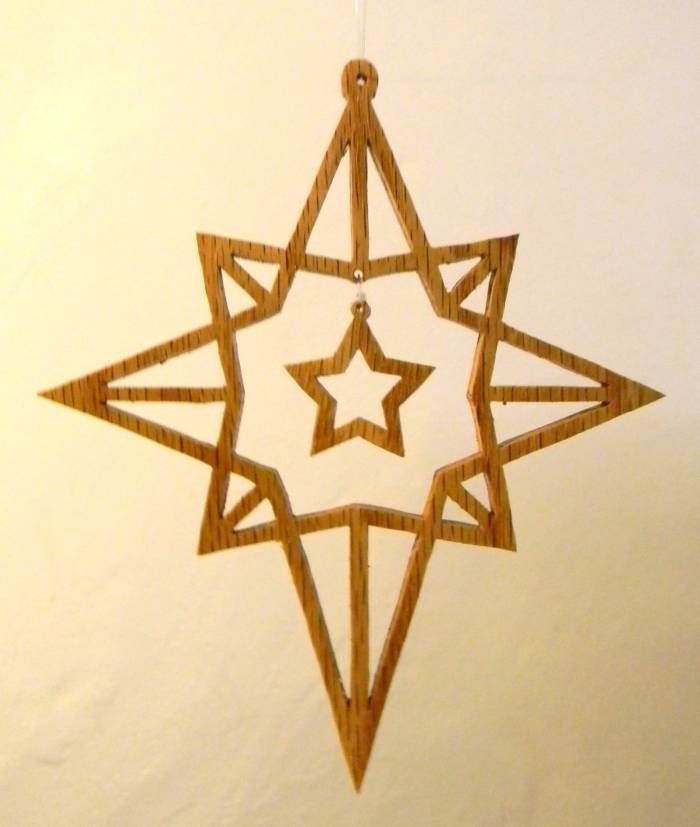 The star on the inside moves back and forth and is suspended there with fishing line. I tried other things like a metal jump ring but either they were not small enough to go through that very small hole I drilled or they were not a large enough jump ring to go through the 1/4 inch wood. (See Challenges! The other challenge was cutting that very small star.)
That is the end of my ornaments for this Christmas season. I am sure there will be more ornaments made but for now I am moving on to a few scroll sawed gifts.
Happy Crafting ! ! !
Brenda