The weather is starting to warm, spring bulbs have came up and the frost nipped them, spring rains have started to fall, and then temperature is up and down. All of those things point to the fact that is Springtime outside and Easter is quickly approaching.
Many of you have heard me say that I teach a CCD/PSR class. This year I have six of the most wonderful Kindergartners. I love these children. They work hard, do what is asked of them, never complain, and if I give them a homework assignment they complete it without complaints. These children have also memorized all of the required prayers and now it is time to celebrate their accomplishments.
I made Easter Baskets for them this year. These were made with the Cricut and the Easter 2010 Cartridge. (Even the little eggs on the side of the baskets are on the cartridge. )

I made 6 of them (4 bright lime green for the boys and 2 hot pink for the girls.) Each basket has a large clear character egg filled with Sixlets, Smarties, a wired movable bunny, a tube of bubbles, a Lg. Reese's Peanut Butter Egg, a flipper frog, and a Ring pop. (That is a lot of stuff layered and packed into that small little cardstock basket! There is also a small handful of the colorful shredded paper.
I took these pictures before I wrapped them with the clear cello plastic. I thought it would be easier for the kids to them home if they were covered. It worked really well. I also took pics first because I thought that the camera would "glare" after wrapping them with the plastic.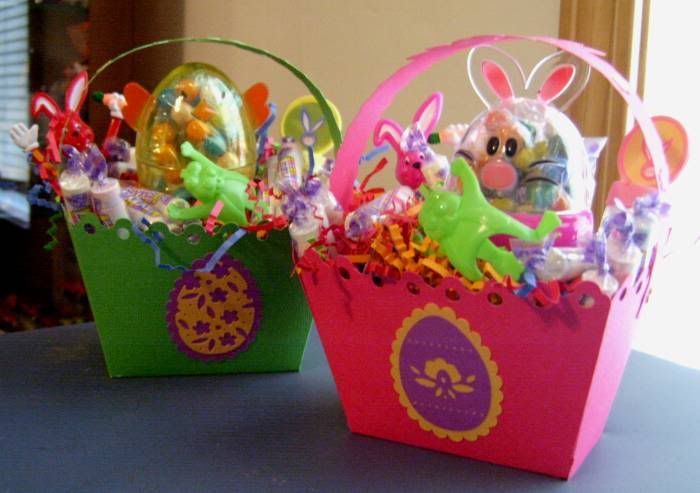 These are small baskets each made with one sheet 12 x 12 piece of AC Textured
cardstock. I thought they would be perfect (just a little something for each student to let them know that I thought about them at this very special time of year.)
I was always taught that it is not the size or price of the gift that matters it is the thought. I put a lot of thought, but very little time into these baskets. They were inexpensive to make and something that I am very proud to give as a gift. I know they will not last long because after all I am giving a paper gift to 6- 6 year olds.
I sure hope they like them and I hope that I've inspired you to make one or two of these to give to children you know.
Happy Scrappin' ! ! !
Brenda