It has been a long time since I've scrap-booked in my personal albums. There are several reasons for this 1) I've been so busy doing things for Design Teams (DT) and meeting deadlines that I didn't really have time and the pictures that I had didn't really match what I needed to be using for those DTs, 2) I am also a little obsessive/compulsive and I have to scrapbook in order, there are very few exceptions to that rule for me and 3) when I wasn't scrap-booking for the DTs I was busy taking care of my family's needs (2008 and 2009 were very busy years and I am glad they are over) 4) the lay-out (LO) that I am posting today was very difficult for me to scrapbook.
This LO is of a day that I spent with my dad. He was so giddy about going to the grand opening of the Cabela's store. My husband and him talked about it from the day they found out that Cabela's was coming to a mall near us. We planned for months to go. My dad passed away this past May (2009) and the first set of pictures on my desk to scrapbook after my DT duties were finished was these pictures. It was very hard for me to do these pictures. Every time I say down I cried.
I finally managed to finish the LO and used 3 fonts, 3 methods, and then some of the stuff in my arsenal of supplies to finish it. I didn't want to leave any of the pictures out so it is cram packed with photos.
First off I used Sure Cuts A Lot (SCAL) to create the "Cabela's" writing. I have to give a shout out to Heather Mills for helping with that. I am not good with the SCAL unless it is with just TT Fonts in my computer.
Second I used the QuicKutz Diesel Grand for the word "Grand" and some mini CC leaf dies for the leaves.
Third I used my Cricut with Cricut Design Studio and cartridge Opposites Attract to do the word "opening."
The rest of the embellishments were items I had like the Karen Foster metal charms.
I am glad this LO is finished and I like the way it turned out.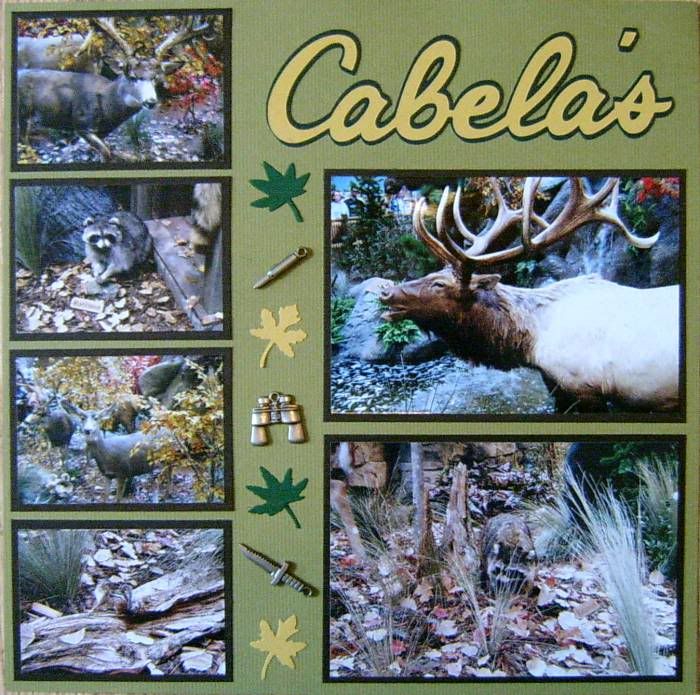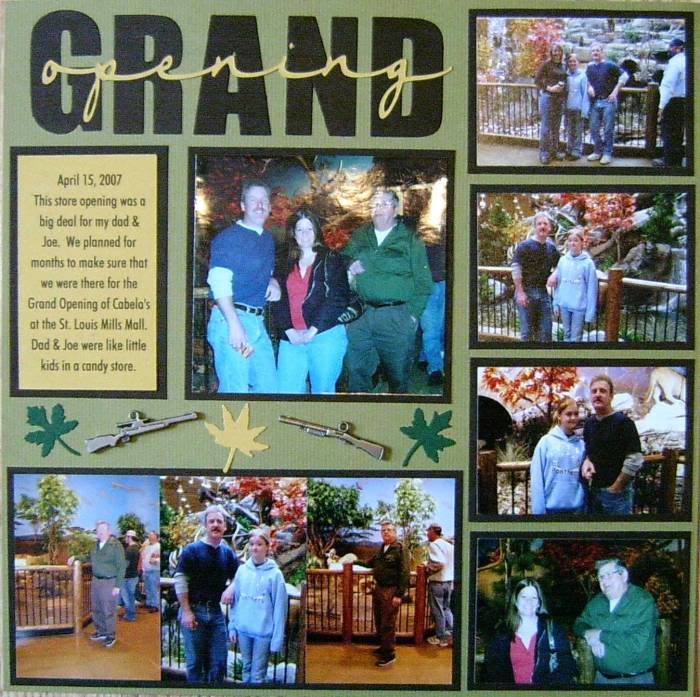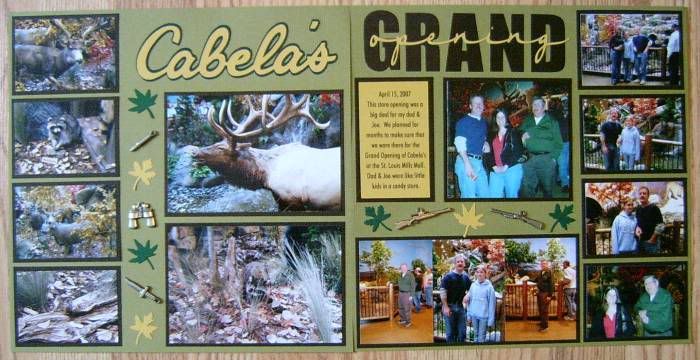 I am glad to be back working in my albums and I am looking forward to doing more very soon. I am also looking forward to using things that I want to use instead of "having" to use certain dies, fonts, or scrapbooking items. This will also allow me to use up my stash which I am very much looking forward to doing.
My challenge today to you is to use something that you've had for a while.
Happy Scrappin' ! ! !
Brenda