Back in November my husband, Joe, celebrated his birthday.
One of his favorite all time movies is "Toy Story." We own both Toy Story and Toy Story 2. Just before his birthday Toy Story 3 was released on DVD and Provo Craft Cricut released a Toy Story Cartridge. This was just an excuse for me to buy another Cricut Cartridge and to buy the movie for my husband.
My husband is one of those men who has never grown up. He loves his toys, mainly his die cast car collection but toys never the less. His favorite Toy Story Character is Woody. We have watched Toy Story so much that he can quote almost every line in the movie.
So for his birthday I took a page out of his mother's book and planned a themed birthday party for him.... and yes, you guessed it, Toy Story was the theme. I purchased Toy Story 3 plates, cups, napkins, and party favors. I bought the movie for his gift. I even bought a gift bag but I wanted to use my new cartridge so I made the card.
I was feeling a little creative so I decided to try my hand at a cut-out card. I updated my Cricut Design Studio and Gypsy and decided to give it a try. This was not without challenges. I am not as versed in my Cricut Design Studio as some of the ladies on the Cricut website but I was very determined.
I made the base of the card first. Then did the overlay Woody. Some of the obstacles that I ran into was that some of the pieces on Woody are very small and it is not always easy to figure out where the pieces go in the scheme of things. It took a little longer than I had anticipated but I finally finished Woody for the card. I made this card a half fold size. If I had made this any smaller it would have been hard to cut the pieces and to put this card together. I think that Cricut means for these characters to be made a little larger. The thought to make all of the characters and mount them on toothpicks for cupcake toppers quickly disappeared after making the card.
This is the completed card..... folded and ready to go into the envelope. The word "Howdy" I found on another Cricut Cartridge called "Wild West." (It was pre made and pre-welded.)
This is the inside of the card. (The words Happy Birthday had to be welded but the word "Pardner" was already there on the Wild West Cartridge for me. )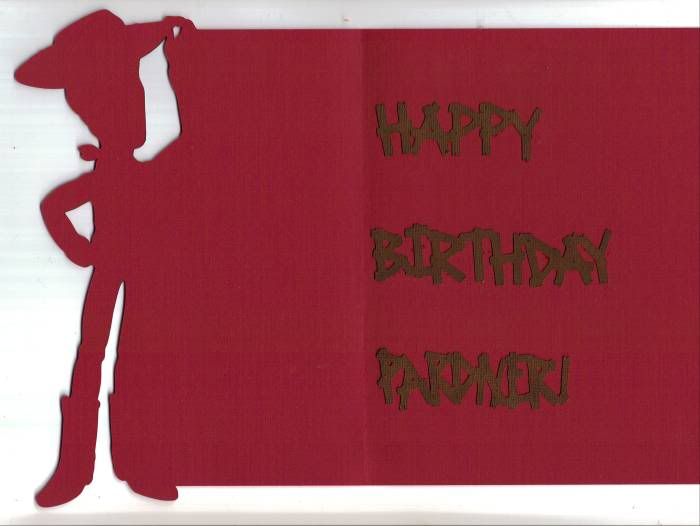 I also wanted you to see the cut out from the front view.... there is holes in Woody's hand, between his arms and body and open space between his legs. Don't forget the little extras like some chalk to blush Woody's cheeks.
I offset the words on the inside of the card so that you can't see them when the card is closed. That way when you open the card the words are all to the left, close to the card fold.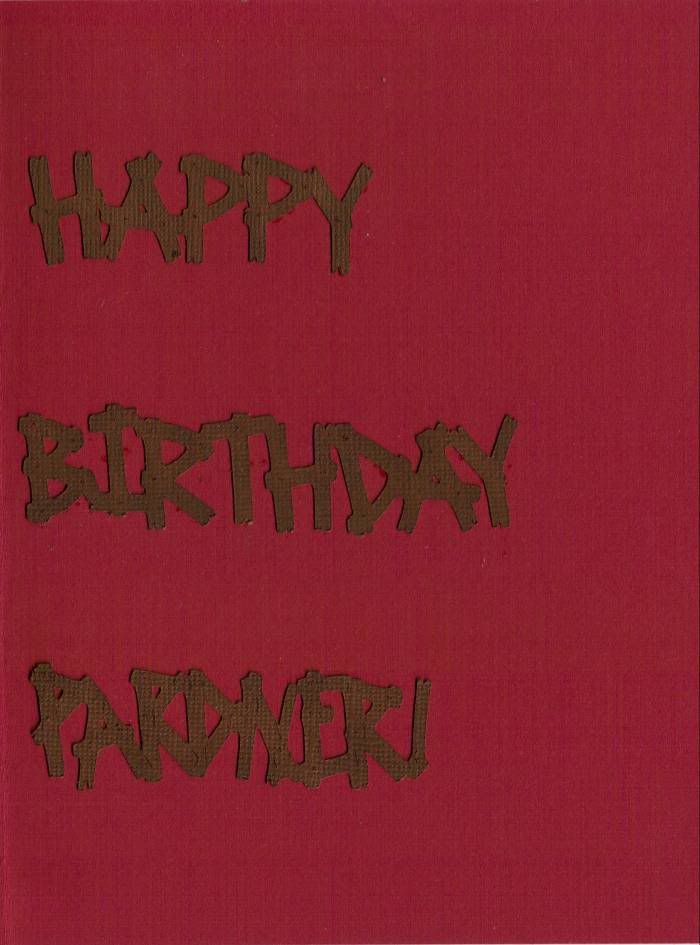 This was a learning experience for me. It was also a labor of love.
My mother-in-law would have gotten a kick out of the party.... and my husband laughed at the fact that I made him remember his mom. (She passed away 2 years ago and we all miss her.) She was notorious for doing things in a theme. She was always the first to think about ways to make a birthday special. Granted my 46 year old husband thought the whole theme was a little lame he secretly enjoyed it.
I guess my message is to try something new and different when you are making a card. Look for new things to try. In this case a cut out card. Reach for something that you already have on your shelf whether it be a die or a Cricut cartridge.
Happy Scrappin' ! ! !
Brenda