I recently joined a swap for book marks and I wanted the one that I was sending to be very special. I love to read and one of my biggest pet peeves is losing my place and a book mark that comes out of the book easily. Another thing that really bothers me is not being able to remember which paragraph I left off at. I am one of those people who reads a little here and there and sometimes I have to stop before I get to the end of a chapter. So I guess, I wanted a book mark that was also a place marker.
I was on a mission!
I wasn't sure how to put all of my ideas into one element. I literally went to bed one night thinking about this project and dreamed about who and what to make. I woke thinking I already have the concept down in a spinner card that I had made previously.
If you missed that post here is the
LINK
to the Spinner Card.
I took the concept of the spinner and altered it slightly. The book marks made from that concept are less bulking and lighter. There is no pennies in these and they do not "spin" but rather slide.
Here is the first picture. The one on the far left is my prototype. I wanted to make sure that this idea would work before I put too much effort into it. The basic idea worked but I did not like the look of the channel showing so I created a back by lining up the repeating pattern of the paper and putting a backer down before I mounted the slider. That is shown in the two book marks to the right.
Here is a close up of a finished book mark: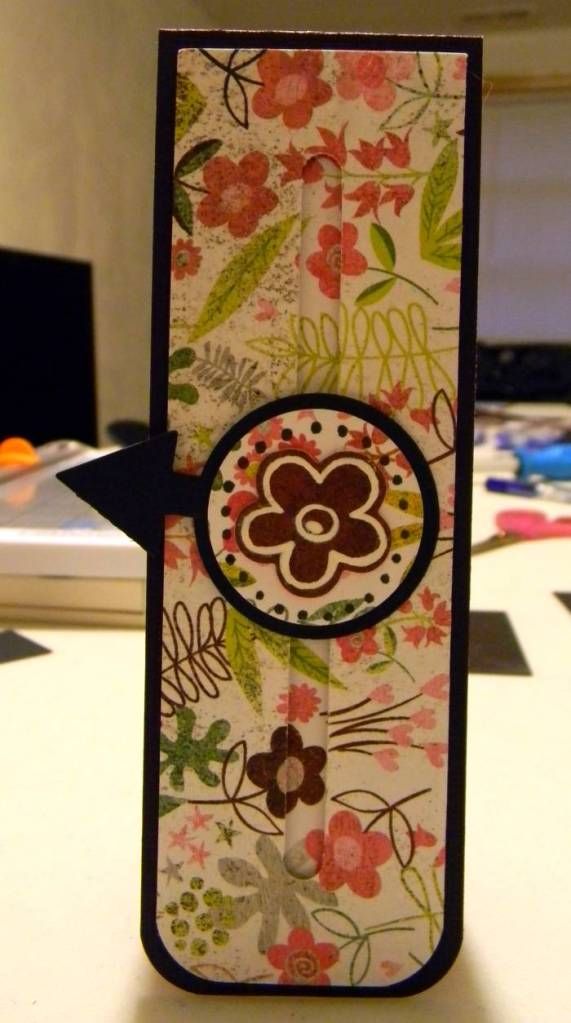 This is made of a 12" x 2" strip of cardstock, scored and folded in half so that the book mark goes over the top of a page or two. To keep the book mark from flying off the page I used magnets so that it grabs the page and stays put. These magnets are made from recycled magnetic business cards that I receive in the mail. I simply peel off the business card and reuse the sheet of magnet.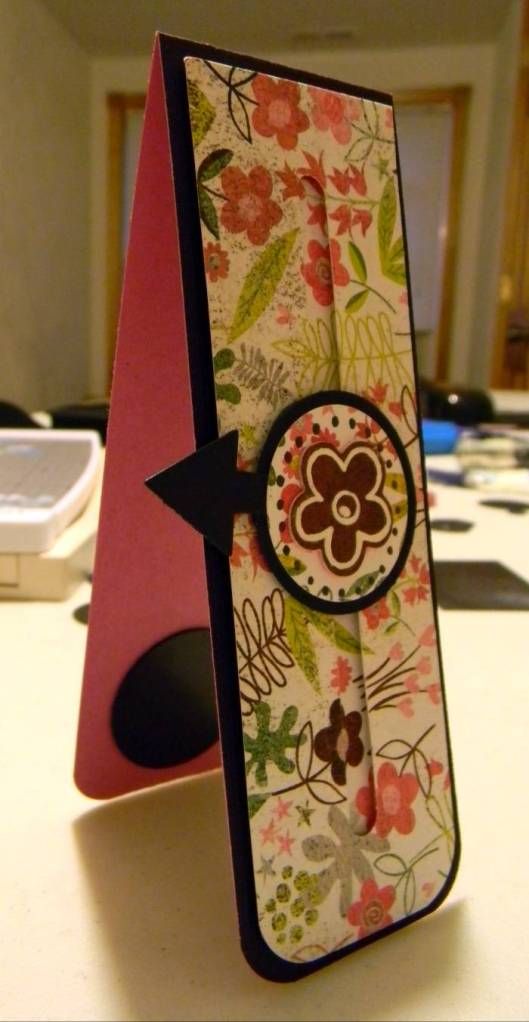 Here is the finished book mark on my book. The medallion slides up and down and it also spins in order that you can point the arrow to the paragraph where you are ready to start reading when you open your book.
I think I can say mission accomplished!
Now if you would like to know how I made this book mark, stay tuned as I am working on a video for it.
Don't stop there, use the technique to make a card or something move on a scrapbook lay-out.
Happy Scrappin' ! ! !
Brenda