There are a million blogs out there that share recipes and I love them. I am not turning into a food blogger but thought once in a while it would be fun to share one of my food items. I spend a lot of time in the kitchen and have a few original recipes that I would put up against some of the best Food Network stars. I do not claim to be a master chef by any means but I enjoy cooking and baking and know my way around the kitchen and have the hips to prove it!
This is a dessert that I love to make that has 4 layers. A little bit of everything that any one might like or love in a dessert.
The first (bottom) layer is a fudge chocolate cake. No secrets here, this is a box cake mix that has been mixed and baked according to the package directions but is baked in a very old pan. To get those pans you had to buy a Duncan Hines Tiarra Cake Kit. I loved those kits. I found an extra set of those in a resale shop recently and bought them. They join my other four sets. They are great pans.
The next layer is a chocolate ganache. Simple terms, melted chocolate and cream. Pour a thin layer in the well of the cake.
Third layer is a mousse. This is the simplest thing to make. One small box of instant pudding, 1 cup of cold milk, mixed well, with one cup of Cool-Whip folded in.
Fourth layer is Cool-Whip.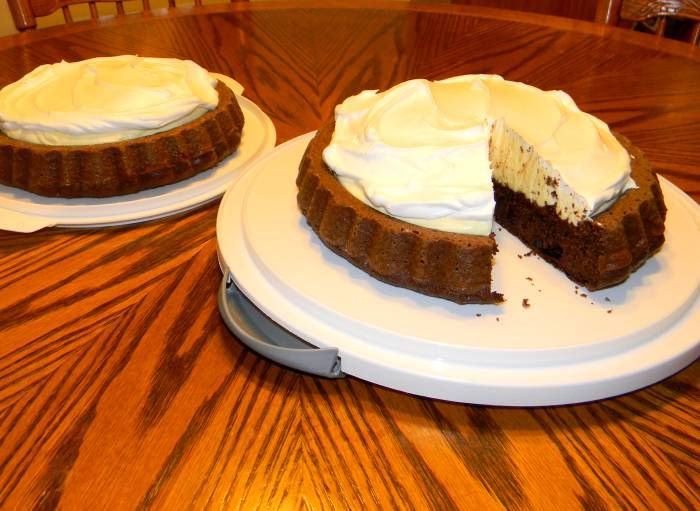 It is hard to see that ganache layer, but it gives it a rich chocolate boost.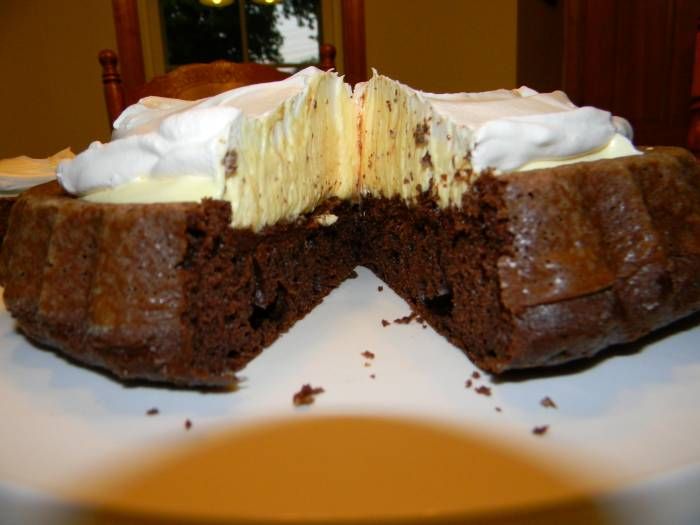 A little slice of heaven if you ask me! If you want to mix this up you can add a teaspoon or two of extract to the vanilla pudding to change the flavor. My favorite there is almond, or you can just get a different flavor pudding. Another thing that can be done, instead of the mousse layer, omit the mousse complete and add a can of your favorite pie filling and top each slice with a dollop of whipped topping.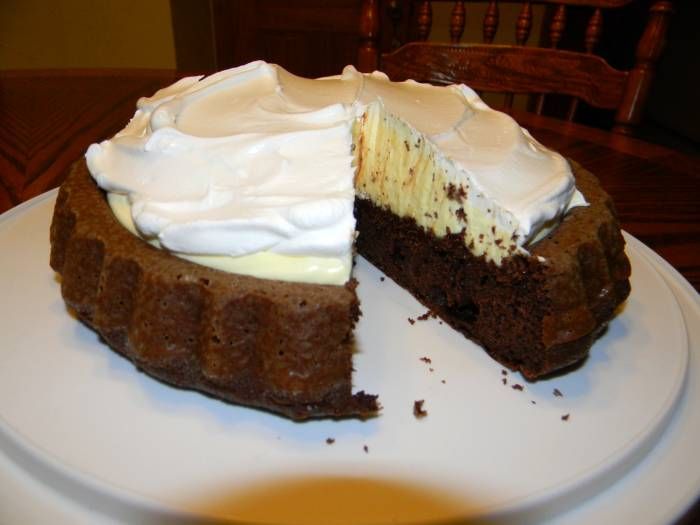 The possibilities with this simple dessert are endless.
I will be back to the crafting and scrapping ... but today I say Happy Cooking ! ! !
Brenda