One last post of the Christmas Gifts that I made that you can adapt to other holidays.
This one is less of a craft and more of an all round great gift. I made these for a few co-workers, family members that I didn't know what to buy, neighbors, the mail person, the UPS driver, and made a few extras for those people who stopped in with a gift that I forgot on my shopping list. I only had one left over which my daughter gladly took for her boyfriend's mom.
You can find these "Gift In A Jar" recipes on the internet. This particular one makes wonderful cookies that are best when still warm out of the oven. The recipe came from
All Recipes
. It is easy to put together, decorate, and have been well received.
As far as the crafty part of this you can get as crazy as you like but I kept them simple. A round of fabric, a hand-made bow using wire edged ribbon, and the printed instruction card that I also used as a gift tag.
Once again these can be used for any holiday gift giving and the decorations changed to fit the event. And tell me who doesn't love a fresh, warm out of the oven home-made cookie? YUM!
The only tip that I can give about these to make them a little prettier than just layering is that you with each layer that is added is that you use a kabob skewer to make hills and valleys in the mix. It is just a pretty touch.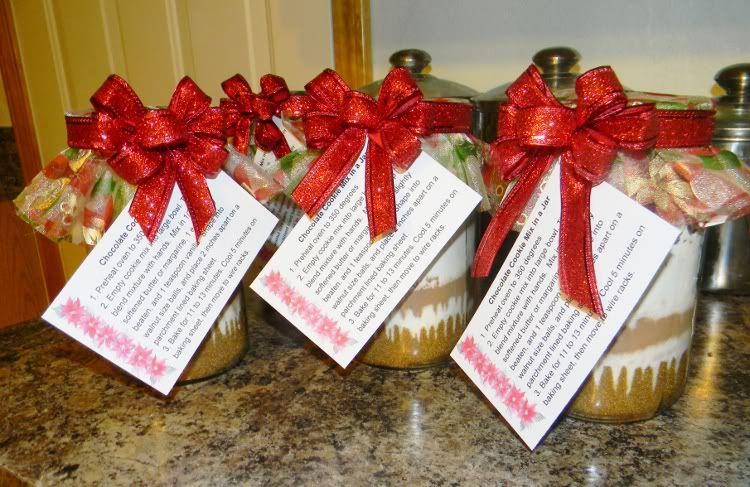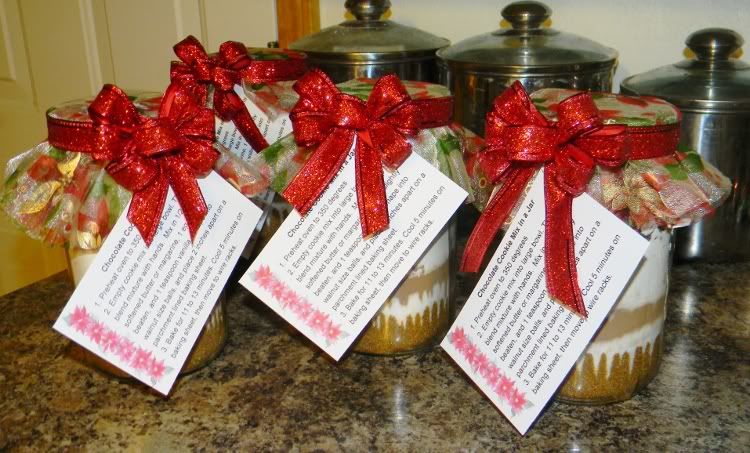 Change things out, decorate them differently to fit the holiday, change the printing on the card to also fit the event and you have the perfect gift... this would work as a teacher's gift, welcome to the neighborhood gift, or for any holiday or event.
Enjoy them... try other "Gift In A Jar" recipes too.
Happy Crafting and Cooking ! ! !
Brenda