Happy St. Patrick's Day.
Yesterday I posted small gifts that I gave to my CCD/PSR students.... and today it is a card for a dear friend.
I received a couple of Martha Stewart punches which I had to use immediately. I LOVE punches and I LOVE anything with hearts so these were two-fold for me. I had received an email back in October from another blog that I subscribe to....
Capadia Designs
. Ever since her post I've watched for these punches.
When I got them just 3 days ago I quickly made duplicates of the cards she created and then thought that I had to find another use for those punches. That "Punch All Over The Page Punch" had me intrigued. The design I had in my mind was for a shamrock and I tried several times to line up the small holes and punch them so that a single set of holes was between the hearts but because the large heart has a slight curve it wasn't happening so I re-thought the way I was trying to do this. Then with a graph drawn on the back side of the cardstock and careful alignment I was able to punch 4 hearts to represent my shamrock.
Here is the front of my card: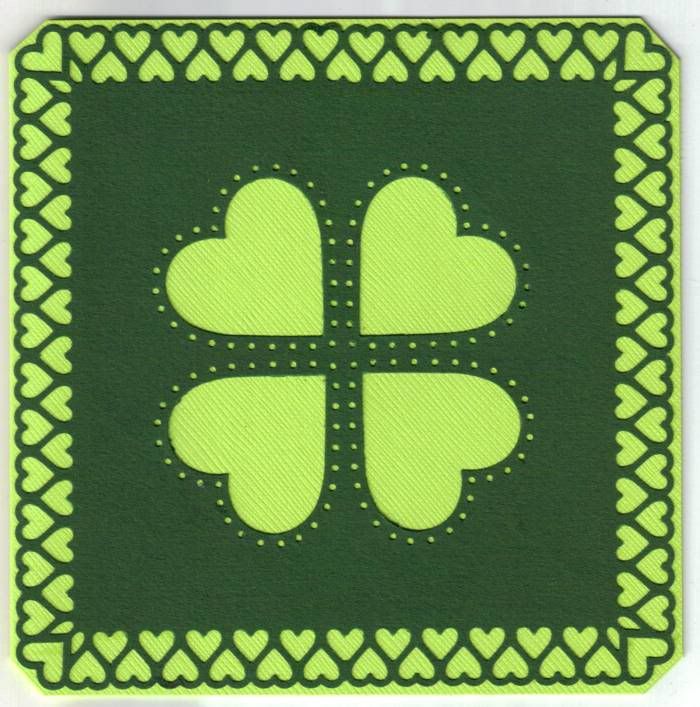 I was very pleased with my St. Patrick's Day card for my Irish friends. Inside the card I used a Celtic Font and wrote, " Lucky To Have You As My Friend." They should receive their cards today in the mail.
I am sure that I will find many uses for these punches (both sets) and that many of my fellow scrapbookers will help me out and I hope that I inspired just one of you.
Happy Scrappin' ! ! !
Brenda