My sister-in-law, Susie is expecting her first baby. We are very excited about a new family member coming into the world. She is due the first part of June and last weekend I attended her shower.
I got the gift ready and I had forgot to buy a card.... Oh My a scrapbooker by a card? Yes when in a hurry I still buy a card but I did not want to go back to the store to get just a card so the morning of the shower while the house was still quiet I got out a few dies and made a card.
I just started reaching for things like my
Spellbinder Nesting Circles
, a Go-Kreate Baby Die, and the
QKs Banana Split Font
. (All of those dies can be found at
ScrapyLand.com
.) Now I know that they used to carry the Go-Kreate dies and he still has a few of them there but if I am not mistaken that company is no longer in business so there are limited dies from them. I also used a Peachy Keen stamp for the baby's eyes which I purchased at a local scrapbook store called
The Scrapbook Factory
. I love that store as well and they just started selling on-line.
In any case this is the card that I whipped up in a matter of 15 minutes.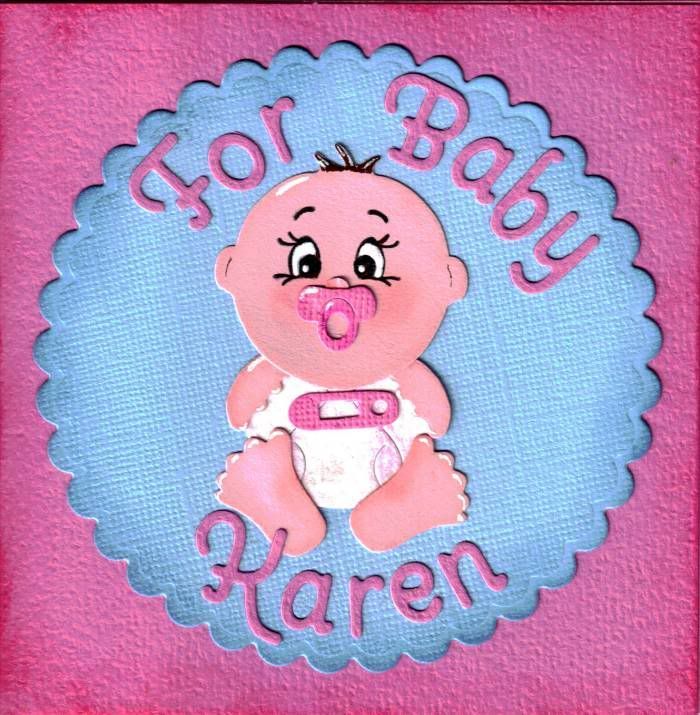 You may have guessed the baby is a girl and they have chosen the name Karen to honor my Mother-In-Law who recently passed away. I know that she is looking down from heaven admiring everything that Susie is doing.
I need to make more cards instead of buying them if for no other reason to put my investment to good use.
Use those dies and save the money you would have spent on a store bought card for more dies!
Happy Scrappin' ! ! !
Brenda