Each year I make Valentine's cards for my CCD/PSR students and for my children, but sometimes a card just doesn't seem like it is enough but I can't spend a lot of money.
This year I took an old project and revamped it slightly and was able to make a special Valentine Candy Box for about $1 per child.
Do you remember this project?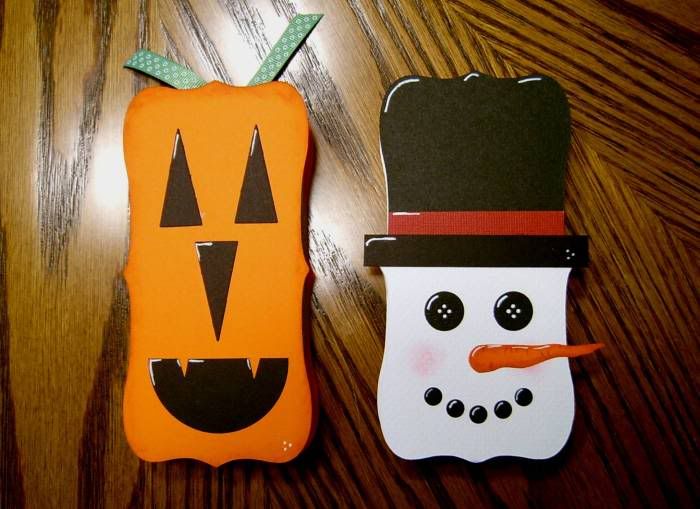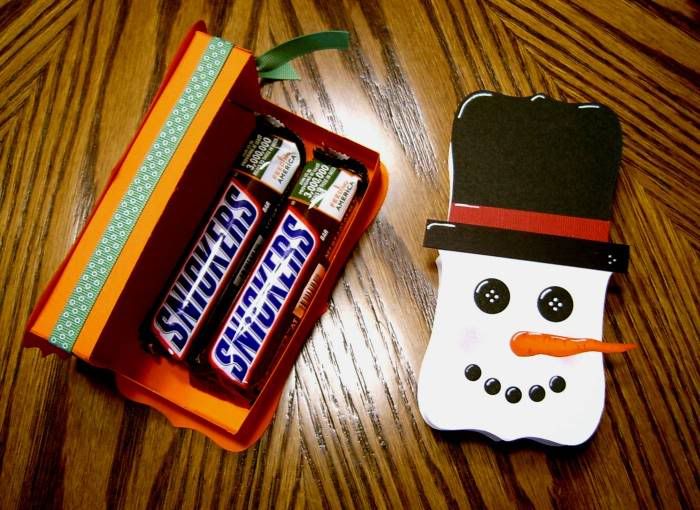 I will give where credit is due for this project and also share where you will find the directions for the box. Scrapy Land Susan posted the original "Pumpkin Box" on the ScrapyLand Blog. Here is the link to her
VIDEO
. I had taken her idea and turned it into a snowman because she challenged us.
I love the idea of the little box being a blank canvas so I changed it up yet again for my Valentine's Candy Box.
I used my Cricut Design Studio (DS) and designed a new scalloped box top and bottom which gave me a new area to create on. That scalloped rectangle for the top and bottom of the box was created by using the George Cartridge. I also broke out the Create-A-Critter Cricut Cartridge and used the bee from that cartridge. By using my DS I was able to cut 10 bees (with all of the layers) on one mat. Although I love the bee made just as it was on the Cricut Cartridge I used the hide contour option in DS and hid the facial cuts on the Bee and then I used some awesome Peachy Keen Stamps and stamped those adorable faces and then used a white gel pen to put the highlight in the eyes and a little chalk to makes his cheeks blushed. The words were created using Cursive 101 Cartridge and my DS to weld the letters. I used a little red ink to accent the edges of the scalloped rectangles. The hearts for the corners of the box, on the bee's antenna, and to replace the dot on the "i" were made with a hand punch.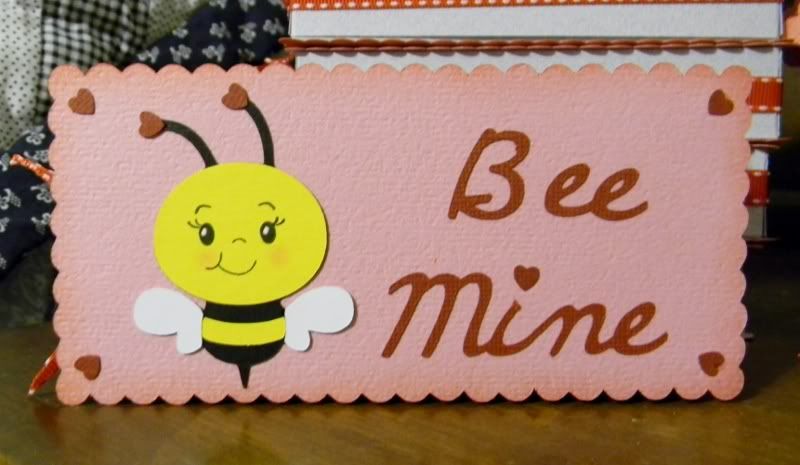 I filled the boxes with 18 (9 each) Hershey Hugs and Kisses. They fit perfectly! Nothing says I love you like a hug and kiss.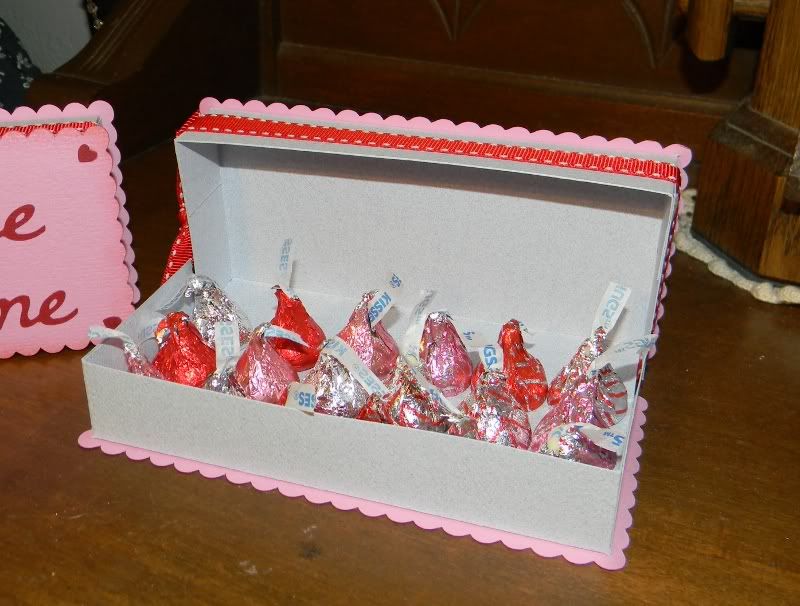 Here is a close up of just the Bee: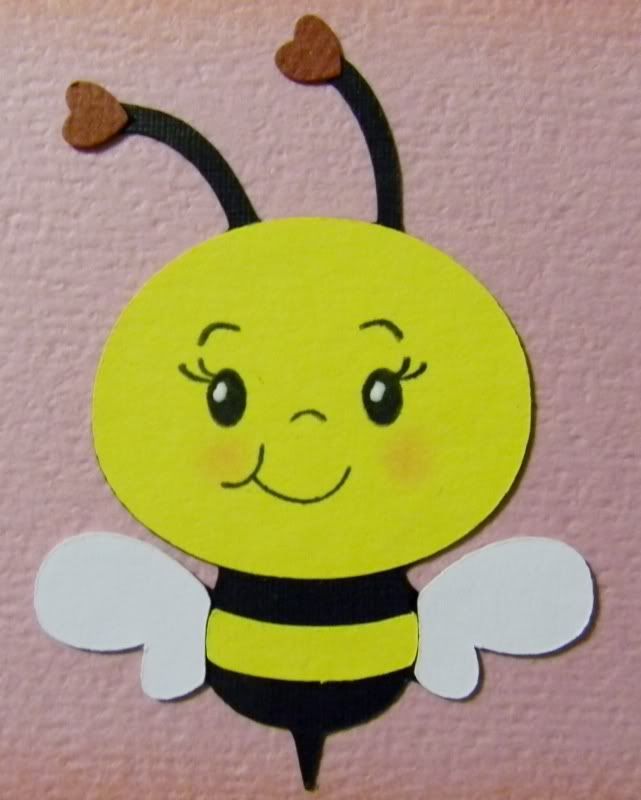 From start to finish it took about 3 hours to make these and I figured while I was doing it I would make enough for all of my CCD/PSR students, my children, and a few extras because I know there will be someone else that I want to give one to.... maybe the girls at work.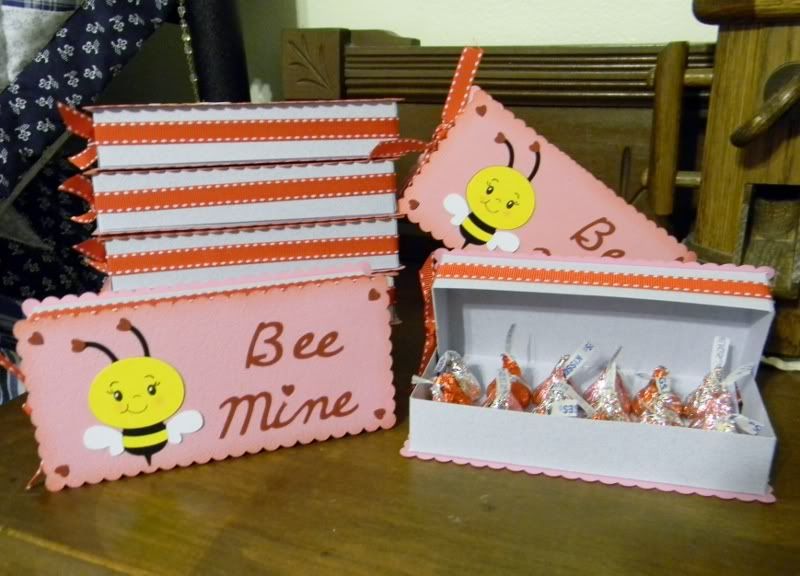 There are still time to makes these or something similar for your little Valentines. So my challenge today is to use what you have on hand and create a little "I Love You" gift.
Happy Scrappin' ! ! !
Brenda